Booklets from Joyknits
Here's the information on my booklets. Shop orders are welcome; please ask for wholesale information.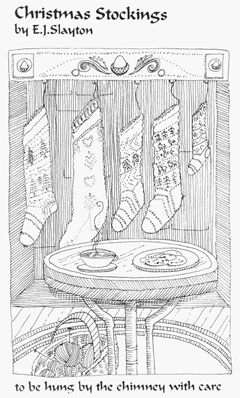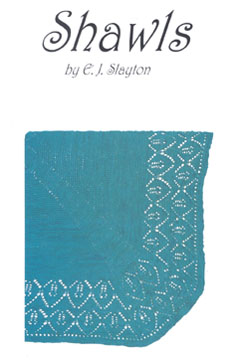 Ribbing - Plain & Fancy(20 pgs): 2nd edition contains instructions for basic ribbed socks, 25 ribbing variations (illustrated), 3 heels (given for odd and even numbers of sts) and a couple of toes. Also includes directions for a tiny sock, plus bibliography. Stitch counts/instructions given in table form for gauges from 4.5 sts to 7 sts per inch.


Christmas Stockings (20 pgs): instructions for 4 full-sized stockings (sport or worsted weight) for the kids or grandkids in your life, plus mini-stockings for tree, package or lapel ornaments, (or for hanging by any bears, elves or tomten that happen to live in your neighborhood). Each full-sized stocking uses a different technique (texture, mosaic, lace, color pattern); includes a color photo, charts & directions (circular or 2 needle).


Shawls (20 pgs): A collection of shawl patterns that originally appeared in Knitting World. Booklet contains edited (and in some cases expanded) instructions for 5 shawls, starting from very basic and working up; 3 triangular (one includes 5 lace band pattern variations), an 'upside down' Faroe-type shawl with a lace leaf border, and a square shawl which may be used as a christening shawl, or folded diagonally and worn by Mom. Includes color cover, charts and illustrations of the lace patterns.

Booklets are US$6.30 ppd. (addl post to Canada or overseas; $0.36 sales tax for Missouri residents)

© 2007 Joyknits

E. J. Slayton

10364 Bequette Rd.


Cadet MO 63630




Now accepting

Please Email Joyknits for details

Please take a look at my patterns too!